Digital Marketing SetUp
Regular price
$349.99 USD
Regular price
$499.00 USD
Sale price
$349.99 USD
Unit price
per
Digital Marketing Setup
I will provide the following
4 zoom Sessions to help you along the way!
I will prove a Shopify Data Analysis
I will prove a thorough website Audit 
I will show you your Keyword Placement
We will set up your Emails
I will show you Automation Basics
I will set up your Search Engine Optimization submissions 
60 or 90 Minute Call
You will receive a Complimentary E-Book to help you along the way! 
  This will be a zoom session. After signing up you will receive your personal zoom link! 
Wait there is more….You will receive a free 15-minute consultation to understand what you need! 
Don't worry about the cost think about the ROI. Split it up in 4 equal payments with Sezzle, Affirm and Paypal at Checkout!
Share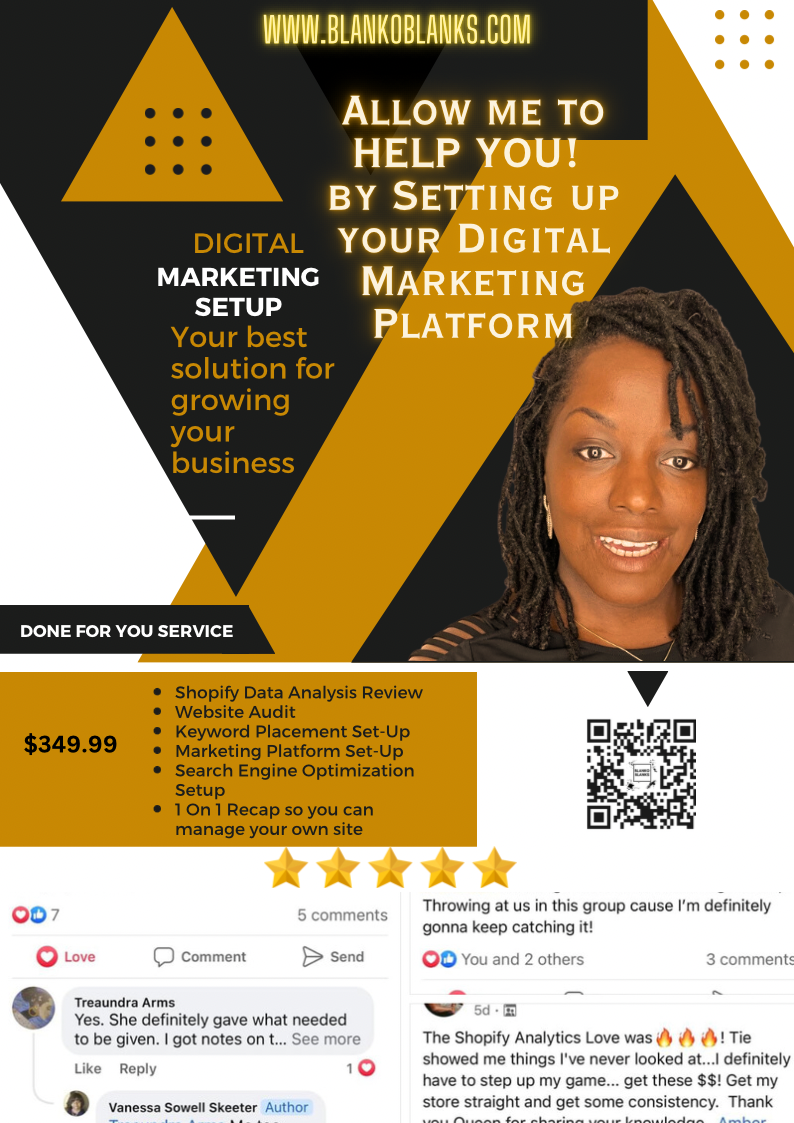 A blessing
I have learned so much from this group and I have purchased many blanks and products. I am forever a "repeat customer" Tie stands by her products and constantly shows up new items she has and how to make them. She is a strong motivator and encourager. And she always makes herself available which shows her dedication. It you are thinking about purchasing any products, blanks, or classes, don't wait any longer. Take that leap of faith and I promise you, you will not regret it. It has been a honor to be apart of such a loving and sharing community of like minded bosses.
Creative
Hello if you haven't join Blanko Blanks Facebook page you are missing out. Here she teaches you have to sublimate on different items, what temp to use and she even breaks it down the size of the image. She and her team makes everything clear so you understand. So head on over and join the group. You want be disappointed.