20oz Straight Skinny Tumblers
Regular price
Sale price
$9.99 USD
Unit price
per
Description:
Skinny Non-Tapered 20oz Sublimation Tumblers.
Stainless steel with sublimation coating

Tight fitting slide lid

Hard metal straw
Straight from top to bottom
Each come with individual box
Plain white gloss finish
Vacuumed sealed
For a perfect fit 9.230x 8.127
Materials Needed: 
Reversed Sublimated Printed image
Heat tape
Mug Press or Convection Oven
Mug Wrap (Optional)
Temperature:
Convection Oven 350-375 degrees 6-8 minutes (turning in intervals for smaller ovens)
Mug Press / Cricut press  Temperature vary per machine
Share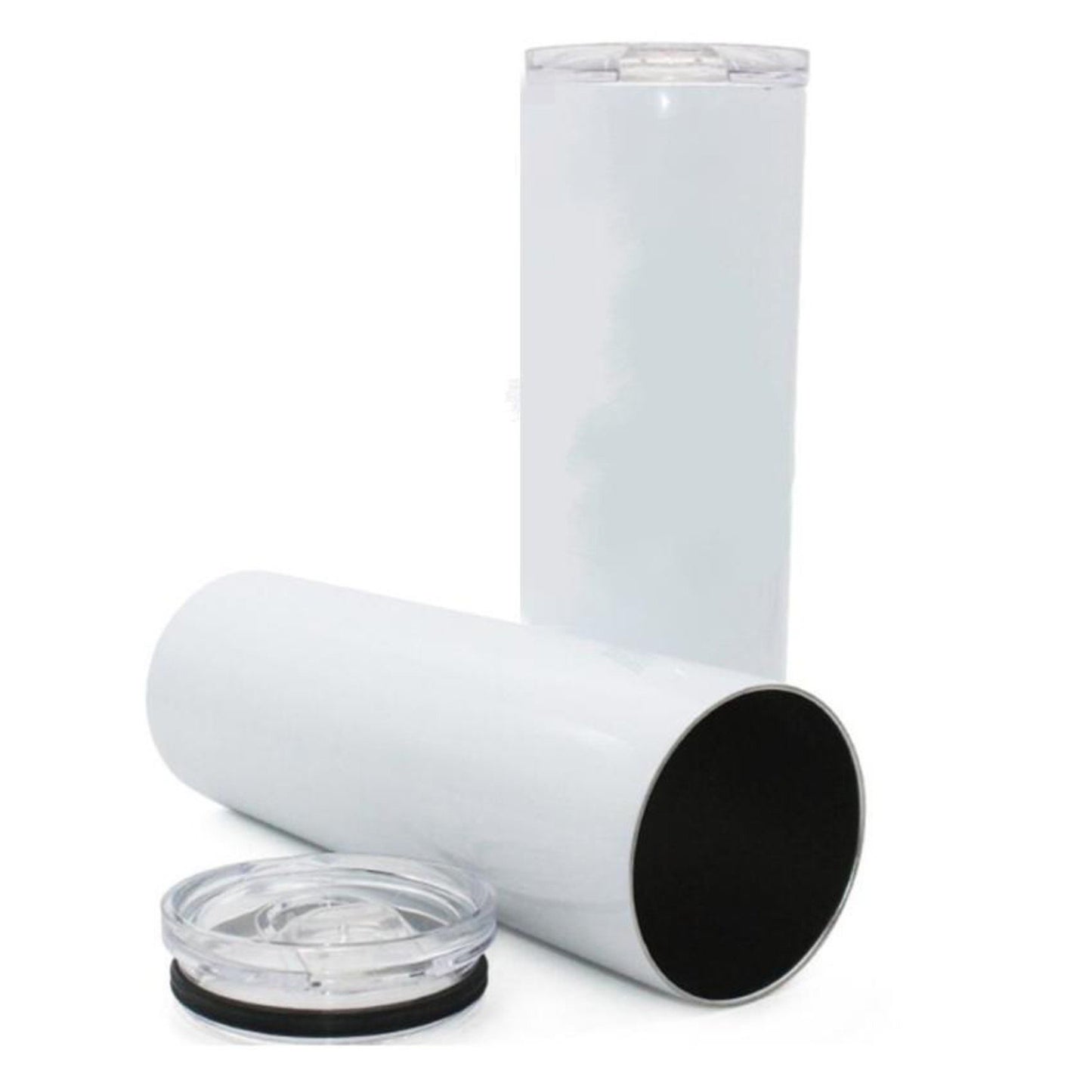 20oz Straight Skinny Tumblers
Great quality and fast delivery as always.
My go to for all sublimation products!
Blanko Blanks is my favorite place for most of my sublimation Blanks! One of the absolute best customer service ever! I always look here first when I'm looking for any sublimation Blanks! Tumblers are what I make the most and these tumblers are amazing to sub on. Thank you for having such awesome products!
Best Sublimation Tumblers
I love the way these sublimation tumblers let you create your designs with ease!
It's a fight
I bought them for an upcoming event after hearing about them in a facebook chat. I'm not loyal to any seller unless the experience is above and beyond, so since my amazon tumbler purchases haven't been great, I was happy to look elsewhere.
The tumblers arrived and I was excited. Took one from the top of the pile out to get the measurements and there it was. The lid is flush with the rim of the tumbler. This means there's nothing to grip to twist like with my other purchases. I tried pushing up on the tab to pop it off and nothing.
I had to push back and forth to eventually get the top off---and then I foolishly put it back on thinking it was a fluke that it was so difficult to get the top off.
How am I supposed to sell these things with lids that have a death grip on the tumbler? I wont be able to get replacement lids on time either and I can't sell them without a lid. I dont want to be that seller who sells a defective item and then tells the consumer it's a them problem. #tired
Awesome
We ordered several tumblers and sippy cups. They absolutely sub'd beautifully! Great shipping time and customer service! We placed an additional order the following week.